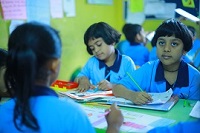 Paramita has library with vast collection of books in Science, Maths, English, Social, General Knowledge, Mythology, Epics, encyclopedia's and many more. Children are advised to visit the library and refer to books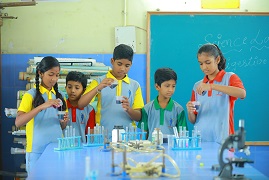 Paramita has state of the art science, English, Math labs & a dedicated Sanskrit lab which is the first of its kind in Telangana region. We believe & practice in dedicated lab work because it provides us an important review parameter on what has been learnt by students and conforms to the educational practice of learning by doing. Labs are upgraded frequently to keep in tune with the latest practices.
Paramita has students from different parts of Karimnagar corporation. To help transport the day scholars, the schools ply buses on a day-to-day basis. The buses are roadworthy. Drivers with long years of experience are alone permitted to transport children keeping their safety as our main priority. This facility is extended on request and at a reasonable fare.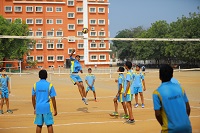 All the three schools have wide area of grounds for the children to play and exert some physical activity. They play games like kabaddi, kho-kho and also practice events like longjump, throwball, volleyball, shotput. We also have an athletic track for the children.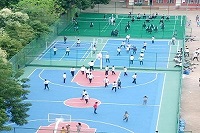 Research says that physical activity is a must for the physical and mental well-being. Physical activity helps activate the pre-frontal cortex of the brain responsible for logic and reasoning.We believe that sports & games are crucial and necessary for the growing body. To facilitate this, fair weightage is given for sports and games in the regular schedule. Extensive ground facility is a compulsory feature of all our schools.A scientific and research proven sports curriculum, TRIUMPH PE, approved by the National American association for Sports (NASPE) is implemented across our schools. TRIUMPH PE also guides on the nutritional requirement of the child.